---
Detailed Description
The QCalendarWidget class provides a monthly based calendar widget allowing the user to select a date.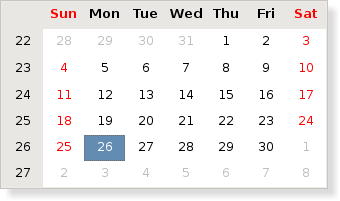 The widget is initialized with the current month and year, but QCalendarWidget provides several public slots to change the year and month that is shown.
By default, today's date is selected, and the user can select a date using both mouse and keyboard. The currently selected date can be retrieved using the selectedDate() function. It is possible to constrain the user selection to a given date range by setting the minimumDate and maximumDate properties. Alternatively, both properties can be set in one go using the setDateRange() convenience slot. Set the selectionMode property to NoSelection to prohibit the user from selecting at all. Note that a date also can be selected programmatically using the setSelectedDate() slot.
The currently displayed month and year can be retrieved using the monthShown() and yearShown() functions, respectively.
A newly created calendar widget uses abbreviated day names, and both Saturdays and Sundays are marked in red. The calendar grid is not visible. The week numbers are displayed, and the first column day is Sunday.
The notation of the days can be altered to a single letter abbreviations ("M" for "Monday") by setting the horizontalHeaderFormat property to QCalendarWidget::SingleLetterDayNames. Setting the same property to QCalendarWidget::LongDayNames makes the header display the complete day names. The week numbers can be removed by setting the verticalHeaderFormat property to QCalendarWidget::NoVerticalHeader. The calendar grid can be turned on by setting the gridVisible property to true using the setGridVisible() function: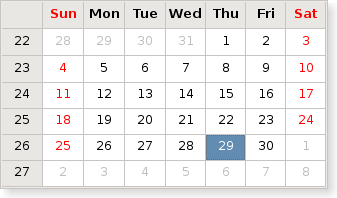 QCalendarWidget *calendar;
 calendar->setGridVisible(true);
Finally, the day in the first column can be altered using the setFirstDayOfWeek() function.
The QCalendarWidget class also provides three signals, selectionChanged(), activated() and currentPageChanged() making it possible to respond to user interaction.
The rendering of the headers, weekdays or single days can be largely customized by setting QTextCharFormat's for some special weekday, a special date or for the rendering of the headers.
Only a subset of the properties in QTextCharFormat are used by the calendar widget. Currently, the foreground, background and font properties are used to determine the rendering of individual cells in the widget.
See also QDate, QDateEdit, and QTextCharFormat.
---
Member Type Documentation