If you change property values or add properties in the code editor, the changes are updated in the running application when you save them. If live preview is not supported for an element, a message appears. Click Reload to preview the changes.
Reloading is enabled by default. To disable it, click

on the toolbar.
Inspecting QML at Runtime
While the application is running, you can use the QML Inspector view to explore the object structure, debug animations, and inspect colors. To open the QML Inspector view, choose Window > View > QML Inspector. The view shows the properties of the currently selected QML element.

When you debug complex applications, you can use the inspection mode to jump to the position in code where an element is defined. You are switched to the inspection mode, when you click the Select, Zoom, or Color Picker button on the toolbar.

When the Select tool is enabled, you can click elements in the running application to jump to their definitions in the code. The properties of the selected element are displayed in the QML Inspector view. The element hierarchy is displayed as a bread crumb path.
You can also right-click an element in the running application to view the element hierarchy as a context menu.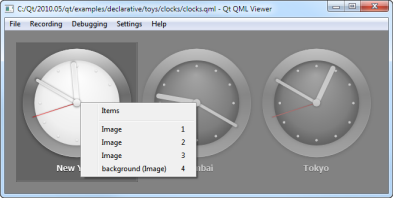 To switch to the zoom mode, click the Zoom button. Click in the running application to zoom in. Right-click to open a context menu that contains zoom controls.
To inspect colors, click the Color Picker button. You can also click

to copy the color definition to the clipboard.
To switch out of the inspection mode, deselect the Select, Zoom, and Color Picker button.
To move the application running in Qt QML Viewer to the front, select the Show Application on Top button.
Debugging Animations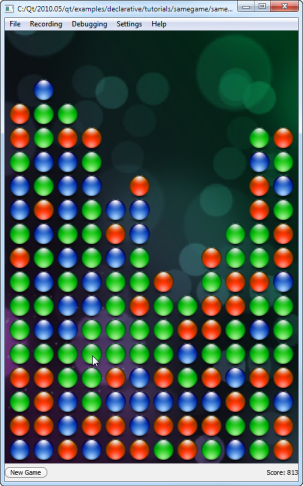 To play and pause animations in the running application, select the Play/Pause Animations button on the toolbar or Debugging > Animations > Pause, or press Ctrl+..
To change the speed at which animations are played, select a value in Debugging > Animations or click and hold down the Play/Pause Animations button to select a value.