The QMainWindow class provides a main application window.
Qt Main Window Framework
A main window provides a framework for building an application's user interface. Qt has QMainWindow and its related classes for main window management. QMainWindow has its own layout to which you can add QToolBars, QDockWindows, a QMenuBar, and a QStatusBar. The layout has a center area that can be occupied by any kind of widget. You can see an image of the layout below.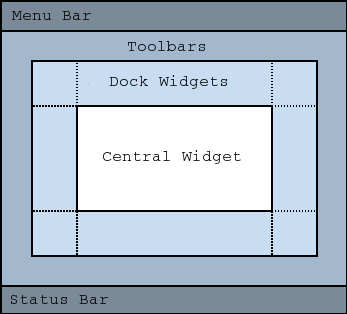 Creating Main Window Components
A central widget will typically be a standard Qt widget such as a QTextEdit or a QGraphicsView. Custom widgets can also be used for advanced applications. You set the central widget with setCentralWidget().
Main windows have either a single (SDI) or multiple (MDI) document interface. You create MDI applications in Qt by using a QWorkspace as the central widget.
We will now examine each of the other widgets that can be added to a main window. We give examples on how to create and add them.